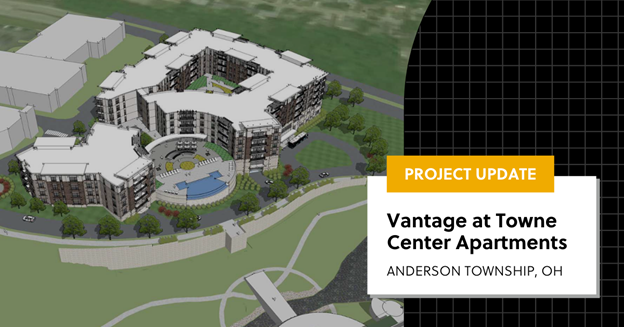 Posted by wfc admin
On April 1, 2022
0 Comments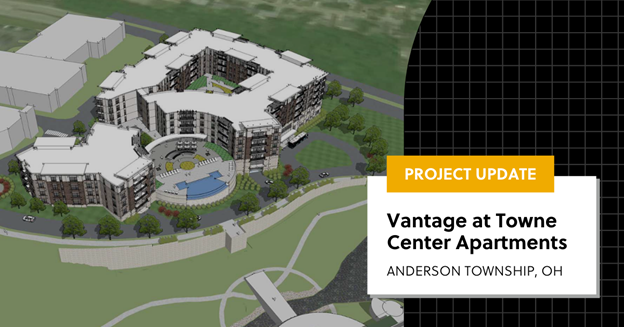 Construction is underway on the Vantage at Anderson Towne Center, a luxury multifamily apartment complex in Anderson Township, Ohio.
Nearly a decade in the making, the project will bring resort-style living to the heart of the township, which is located just 20 minutes east of downtown Cincinnati. The 224-unit complex will offer one- and two-bedroom apartments with high-end finishes. Amenities will include a pool, a fitness center, a gaming and a speakeasy lounge, outdoor courtyards, a massage studio, a café, and a business center.
The project is being developed by Hills Properties, which is also serving as the general contractor.
Dugan & Meyers is providing parking and podium deck construction work. The scope of work includes the structure's three-story concrete podium, which will house two levels of parking for the development and the third level of parking for the adjacent transit center.
From a construction standpoint, the site poses several challenges: it is located on a hillside, and it is tucked between the busy Anderson Towne Center and the township's municipal building. Hills Properties needed a concrete contractor with a proven track record of safely delivering complex, high-quality work on an expedited schedule. Our team was chosen based on our extensive experience with concrete construction and mixed-use developments and our commitment to safety, quality, and service.
The Vantage was designed by KZF Design; Schaefer provided structural engineering services. Hills Properties expects to begin leasing the first apartments in fall 2023.