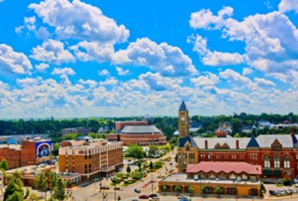 Posted by wfc admin
On September 28, 2020
0 Comments
A flurry of new commercial and residential activity is contributing to the revitalization of downtown Springfield. From new businesses and housing to additional parking options, here are the latest updates on the progress being made in the city core.
Parking garage/retail center
A new parking garage completed in the spring was a project 10 years in the making, and city officials hope it will be a catalyst for continued growth in the downtown area.
The new complex, built by Columbus-based Dugan and Meyers, comes with 305 parking spaces, an outdoor seating area and over 3,000 square feet of retail space that is available for multiple tenants. It provides much-needed parking for existing downtown businesses, and could serve as a selling point as the city looks to attract additional tenants to downtown.
The $7 million project was a collaborative effort among the city of Springfield, Clark County, state of Ohio, Clark State Community College and Community Improvement Corporation.
The Covid-19 pandemic has made it more difficult to find businesses willing to open a storefront at the garage, but city officials say they are starting to see some interest.
"Our hope is to have a restaurant or entertainment-type use in those spaces — something that contributes to the vitality of that corridor, not only in the day, but for nighttime activity as well to field additional growth downtown," Springfield Assistant City Manager and Director of Economic Development Tom Franzen said.
Assuming the economy continues to rebound from Covid-19, Franzen said the hope is to have tenants in place by the end of this year, or by the first quarter of 2021.
However, he said they want to find the right mix of tenants.
"There's no rush to do that," he said. "We want to make sure it's the right fit for that corridor and complements some of the investment we've seen to date. Something that adds value."
Along with the new parking garage, the city is improving its existing surface lots.
Last year the city purchased a downtown lot that was lined with gravel. Today it is a paved surface with 42 parking spaces. The city also is working on another gravel lot that it hopes to have paved before the end of this year.
"As your downtown starts to grow, parking becomes a key component of that success," Springfield City Manager Bryan Heck said. "These (parking lots) add to the character of our downtown and serve as a nice improvement as we continues to try and elevate that core area."
New businesses
Despite Covid-19, a handful of new businesses opened in downtown Springfield over the past few months.
COHatch, a shared work, social and family space that offers services, activities and amenities, recently launched "The Market" in downtown Springfield. The new facility boasts several bars and restaurants that opened this spring. These include:
The Painted Pepper, which focuses on southwestern cuisine. Fresh Abilities, a quick-service eatery with locally sourced products.
Iron Works, a food concept that mainly focuses on waffles, as well as a cafe that features coffee and an espresso bar.
Crust & Company, an artisan bread and pizza restaurant.
North High Brewing, a Columbus-based brewery that operates a taproom with a variety of its beers on draft.
101 Market Bar, a new bar featuring hand-crafted cocktails and live entertainment. "All those merchants are open and have done very well so far," Franzen said.
Another new eatery that recently opened in downtown Springfield is Fratelli's — a family-style Italian restaurant that sits across the street from the parking garage.
Other businesses to open recently in downtown Springfield include Frame Haven, an art and framing store; Cyclotherapy, a bicycle shop; and an interactive T-shirt- making business founded by Tracey Tackett. This business is an extension of Tackett's popular paint bar, called Sip & Dipity. Both concepts are similar in that patrons can drink their beverage of choice as they create art, or in the case of her new business, T-shirts.
Franzen lauded Tackett for her contributions to downtown Springfield, and predicted she will pursue additional ventures in the future.
"She continues to explore entertainment-related venues downtown," he said. "She's very engaged, and wants to see downtown be successful. She's constantly looking at new things that add to the vibrancy of downtown, so I wouldn't be surprised to see more from Tracey in the future."
New housing options
Along with commercial development, new residential activity is picking up steam in downtown Springfield.
Local developer Charles Simms Development is constructing 34 townhomes on a one-acre site in the city core. Simms has completed the first building — a six-unit complex that already has four occupants — and has begun construction on the second building, which will be a four-unit structure.
A third building also is the works. Heck said this complex is currently in the plan review process, and Simms is working with the city to obtain the proper building permits. The hope is to have the third building under construction before the end of 2020.
When finished, the total complex will include six buildings. Five of these will have six units, along with the four-unit structure that is under construction.
Another company contributing to residential development in downtown Springfield is the Turner Foundation.
Turner acquired a vacant property called the Wren Building a few years back, and since then it has been awarded a little under $4 million in historic tax credits for the project. The plan is to find a developer that can transform the historic building into market-rate apartments.
Darren Cotter, chief financial officer for the Turner Foundation, said they are still finalizing plans for the five-story, 46,000-square-foot property. Covid-19 slowed the project down, but Cotter hopes they will soon be available to finalize an agreement with a developer, who could begin construction late this year or early next year. The goal is for the apartment complex to be move-in ready by fall 2021.

John Bush
Senior Reporter
Dayton Business Journal