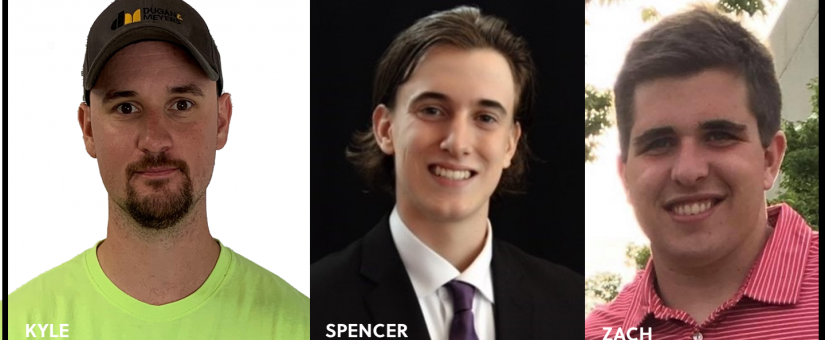 Posted by wfc admin
On June 2, 2021
0 Comments
We would like to extend a congratulations and warm welcome to Kyle Frazier, Spencer Channel and Zach Amend as they transition from D&M Co-op students to Project Engineers this month.
Kyle will continue with his career in Industrial Treatment for Dugan & Meyers. Kyle began his career with us when he was in high school and then took a full-time role as a Laborer after graduation. Shortly after, he made the decision to serve in the U.S. Army. After serving his country, Kyle returned to D&M full-time as a Carpenter and balanced working full-time while in school. He earned his Associates in Civil Engineering at Cincinnati State and relocated to the Louisville area. Kyle has now completed his Bachelor's Degree in Construction Management from Everglades University and will continue to work on the Muldraugh project in Ft. Knox, KY.
Spencer has successfully completed all his Co-ops with D&M and has also assisted us throughout his time in school by working part-time as his schedule allowed. He will continue in GC/DB/CM and transitions into a Project Engineer role. Spencer graduated from the University of Cincinnati with a degree in Construction Management and will be continuing to assist with the NCH RBIV project in Columbus, OH.
Zach will be joining us as a PE in Industrial. Zach also began as a Co-op with Dugan & Meyers. Zach graduated from the University of Cincinnati with a degree in Architectural Engineering and will be a welcome addition to two of our Northern Kentucky Treatment Plant projects.